Reclaim Your Freedom: The Shore Shoe® Story
(The Full Video with Testimonials! Viewing Time: 8:51)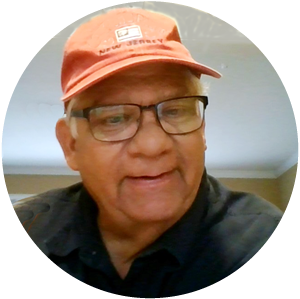 Hello, my name is Jim, a retired grandfather of six, who owns a summer place in Seaside Park. This home has been in my family since 1943 and I have been blessed to have spent every summer of my life at The Jersey Shore.
Like many seniors, over a lifetime of working and playing hard, I have developed degenerative hips and knee problems that have contributed to my slow but steady decline in mobility and balance.
Not so long ago, you would have found me building castles, riding waves, shelling, flying kites and chasing schooling bait fish up and down the beach. I became an observer, sitting at the top of the dunes, looking across the sand watching others play, walk and fish just as I once did.
My days on the beach became difficult.  It was hard for me to stand, walk and move across the sand, and my time fishing diminished.  The trip across sand to the water's edge became a struggle and my self-respect and esteem took a hit.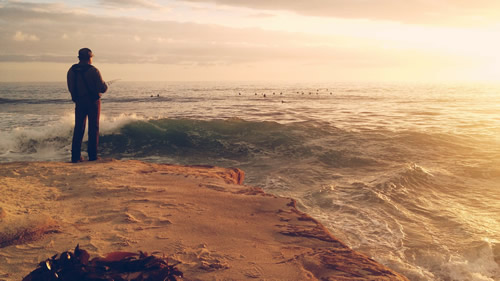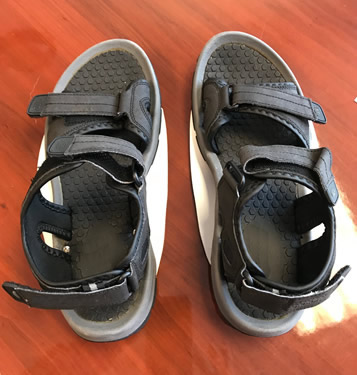 Since the Spring of 2016, I searched for a device that might help me walk in soft sand, I found nothing.  So, in August of 2017, I cut two small plates out of a piece of vinyl wallboard, bolted them to the bottom of a pair of old sandals and took them to the beach.  I found a bench, put on my make-shift sandals, and Boy-o-Boy, what a difference!  Right away, I went up and down the dune in no time and straight to the water's edge.  There I stood, looking out over the waves, grinning, with feelings of amazement and independence.
The next day, I asked my wife and a couple of our friends to try them out.  They too were amazed. They encouraged me to bring my prototype to market.  How about that! My friends wanted their own pair, but more than that, they convinced me that they too needed them. Just like me, they needed them.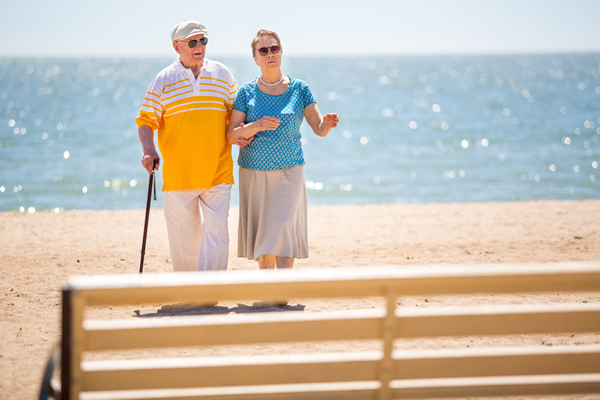 Fast forward, during the process of perfecting The Shore Shoe®, I have been very fortunate to have had the support of my wife, and that of many friends and advisors.  Like me, they believe The Shore Shoe® addresses a common need of those who have difficulty walking on soft sand.  Its design offers a wide, stable platform that helps with balance and mobility.
In a moment of reflection, I can recall my aging father and how he struggled with walking on the beach.  Unlike me, he was forced to give up his love of surf fishing and could no longer play in the sand with his grandchildren; he was heartbroken.  It is my hope that The Shore Shoe® will give many people the opportunity to continue walking, fishing and playing near the water's edge for years to come.
Thank you for your time and curiosity,
Jim S.
Order The Shore Shoe® and reclaim your freedom!
Are you ready to enjoy the beach again?
The Shore Shoe® is for those who struggles with stability and balance when walking on soft sand or uneven surfaces.
It's The Stability Sandal® for Active Beach Lovers. 
View the Demo video and order yours today. Reclaim your freedom!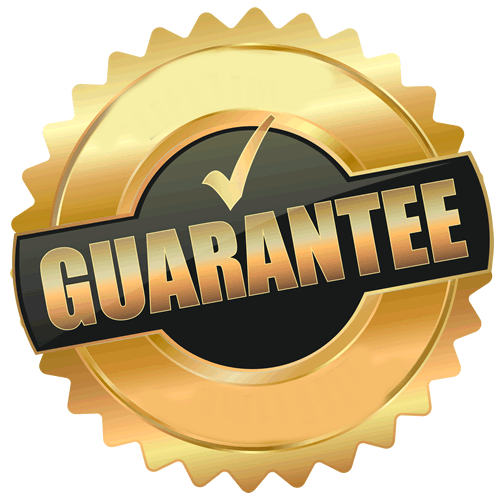 For Your Benefit
We are so confident of the craftsmanship and field tested durability of our sandals, we are pleased to offer a One Year Guarantee:
If your Sandals should Fray, Tear, or simply Wear-out within 1 year of the purchase date we will replace them.  Free-of-Charge!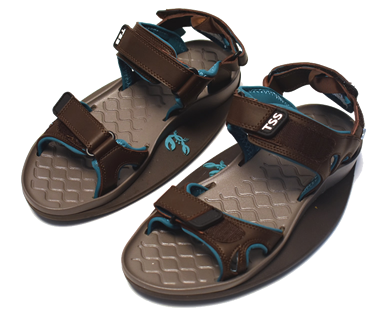 As a corrective care chiropractor, I understand how skeletal misalignment can hurt, and impact an individual's overall health, well being, and functionality.  The Shore Shoe® promotes skeletal balance, especially to people who suffer from back, hip, and leg pain, post operative stability, and peripheral neuropathy problems.     
Without a doubt, The Shore Shoe® is one of the simplest, most innovative footwear products I've used, seen and can recommend.  
For fifty-three years I worked in retail as a Pharmacist, constantly on my feet, with my knees taking the heaviest toll.  Now, believe it or not, I wear The Shore Shoe® all the time, with socks on cold days, because the clicking in my knees is gone, and the pain in my feet and legs have been greatly reduced.  I believe it is because of the wider platform of the outsole.  I am now able to walk in comfort, with confidence, more stability with less pain.  They help me everywhere I go.  Not just on the beach, but everywhere. 
Thanks Jim, your sandals have improved my life.
The Shore Shoe® is a "stabilizing sandal"!  Strapping them on for the first time gave me the sudden feeling of immediate confidence to walk almost everywhere! And walk I did! I was able to go up the uneven slopes of Fort Desoto State Park and comfortably down the many steps to the beach.   
Usually my "come and go" neuropathy, coupled with MS disabilities would have me hanging onto the railings or a family member's arm for support. I love the new freedom I now enjoy.  I am now confident to take walks on the beach, and BEYOND!  I love to read a lot but after sitting for a few hours, it is difficult for me to get up and move.  Now with these sandals, I can confidently stand up and am on the way.  I wear them whenever I have a distance to walk and simply when I'm just moving around my house.   
They help a lot!